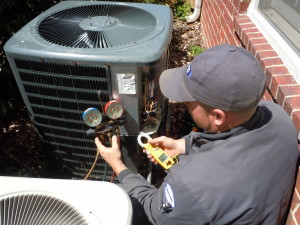 With a temperature of between 86 and 90 degrees Fahrenheit from May all through October, Cooper City homeowners certainly require air conditioning services. Wet summers and hot humid weather are characteristic of tropical rain forest climate which covers much of Florida including Cooper City. To ensure you and your family are comfortable, you need the services of a reliable HVAC company.
Having operated in Cooper City for such a long time, we have what it takes to give you quality air conditioning services at competitive prices. Some of the services we offer include:
AC Installation
When you are constructing a new home or want to replace your old HVAC system, we shall be there to help you shop for the best unit after going through your needs and preferences. We also install the units for you in a professional manner so that they can give you quality service. Our installation service is quick and beyond the expectations of our customers in terms of quality. We install air handlers, mini splits, thermostats, air cleaners, UV germicidal lights, air scrubbers as well as heat pumps.
AC Repair and Maintenance
A climate such as the one in Cooper City makes HVAC systems to run 24/7 the entire year because a slight breakdown makes the entire family uncomfortable. With this kind of operation, it is expected that the system will lose its efficiency with time as pats become loose and non-functional. One of the signs of an inefficient HVAC system and one that needs repair is the increase in energy consumption. Also, when you hear the system making unusual noises and water pooling around it, you should immediately alert one of our professionals or call our office directly. Our technicians are trained and experienced in servicing all brands including LG, Carrier, Hitachi, Bryant, Goodman, Lennox and Rheem.
Our repairs also include emergency HVAC breakdowns. Even if your AC stops working in the middle of the night, you can always reach out to us so that we can fix it. Our professionals at Cooper City Air Conditioning will inspect your refrigerant levels, fan motors, fan belts and compressors before opening up the system to repair it.
Maintenance Service Plans
We love to see our clients covered from spring to winter. In order to do this, we have come up with customized service plans that guarantee servicing for all AC components including filters, condensate drains, motors, coils and other parts. If you enroll in our service plans, you get subsidized prices and the assurance of constant services.
We advise our clients not to wait until their systems start to show visible signs of damage and inefficiency. Get in touch with us through phone or email and we shall respond promptly.