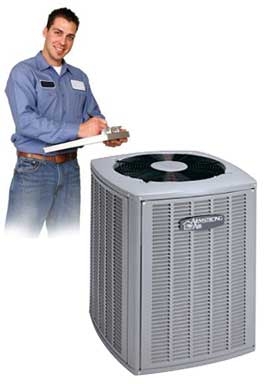 It is the joy of every homeowner to see all his systems working at peak efficiency. However, this is not always the case because these systems operate round the clock and as such go through wear and tear. HVAC systems generally require periodic repair and servicing in order to serve you well. Finding a reliable HVAC expert who will take your needs into heart and devise customized solutions for your needs can be a challenge. Many homeowners have gone through experiences where they were promised quality and timely services only to be disappointed at the end.
We have a reputation for being a company that values customer service, delivers quality workmanship and can be relied upon at all times. This is what explains our constant stream of customers seeking HVAC solutions. Our qualified experts are ethically and professionally trained to handle every kind of problem related to air conditioning. Among the services we offer include:
We advise our clients and the public at large on the best systems to install in their homes. Because we work with renowned brands such as Bryant, LG, Rheem, Carrier, Goodman, American Standard, Lennox and others, we are in a position to know what suits your needs. Our installation service is quick and competitively priced giving you time to enjoy your air conditioned indoor space at less than expected cost. Whether it is an emergency breakdown or a scheduled repair service, our technicians are prepared with the right mindset and equipment to inspect and service your units.
During the cold seasons particularly winter, staying indoors without a heating system can be unbearable; Cooper City Air Conditioning has the solution to this. We install quality heating systems from companies such as Carrier, Trane and Goodman. These are among the established brands for which we carry warranties. We also repair heating systems to make them more efficient and lengthen their lifespan to serve you for a much longer period. We replace refrigerants, filters, broken motor fans, clean coils among other services.
The ductwork of any house is one of the vital systems because of the role it plays in providing a channel for passage of air in and out of the house. These ducts are usually prone to dust, dirt and other debris which may be disrupt the airflows. Our professionals have specialized skills in duct cleaning which ensure your ductwork is dirt free and the threat of mold buildup becomes a thing of the past. We have outstanding equipment such as fiber boards and video inspection systems which help in locating and dislodging dirt.
Not every homeowner is careful enough to note a dysfunctional dryer vent system. However, our professionals can help you identify possible inefficiencies within your vent system. If more than 12 months have passed since your dyer vent system was last cleaned, it is time you notified our professionals. We have the experience, the equipment and the training required to unblock your vent system. This will keep your house energy efficient and free from the risk of fire due to lint buildup.
Your coil plays a huge role in ensuring your HVAC system is efficient. A dirty or dusty coil interferes with the absorption of heat from the refrigerant and this impedes the cooling process. Our coil cleaning professionals will inspect, clean and if possible take before and after images of your coil for your peace of mind.
A warm pool where your family can swim 365 days a year is something every homeowner would love to experience. This is why our pool heating technicians are always out in the field fixing pools for our clients and ensuring the systems in place are energy efficient. For emergency pool heating services, our fast response team working 24/7 will see to it that you are attended to as soon as you raise the alarm.
The Brands We Service
We have partnerships with a variety of HVAC brands with which they cooperate to ensure the customer is well serviced and satisfied. The brands we have a relationship with so far include Bryant, Goodman, Carrier, Trane, American Standard, Lennox, Samsung, LG and many others. For pool heating, we carry warranties on parts and service brands such as Star-rite, Raypak, Pentair, Hayward, Zodiac, Rheem, Jandy, Coates and Lochinvar.
For quality, reliable and competitively priced HVAC services, kindly get in touch with us today.